Food Frenzy!!
Food is like a beautiful symphony. Putting the right ingredients together is like putting the right notes together. Using all the spices (instruments) that compliment each other. The end product will turn out harmonious and you'll have a work of art on your hands!
No doubt, we all love food! But sometimes it's hard to keep up with all the new recipes and your cooking can turn into a disaster! From over spilled milk to a turkey turned charcoal.
This is where the CMS Patriot Post comes in! We'll update you on all the new food trends and even have recipes of the month. Soon, you'll dominate the kitchen and be a master chef or a maestro over all the pots and pans!
Our very first recipe of the month for February is Gigi Hadid's Spicy Vodka Pasta! Model and fashion icon, Gigi Hadid, shared her cooking skills on her Instagram story and later posted the recipe. The recipe stormed the internet and we just had to recreate it!
Gigi's Hadid Spicy Vodka Pasta
Makes For Four
½ cup olive oil
2 small cloves of garlic, diced
½ shallot
½ tomato paste
1 cup heavy cream
2 tablespoons vodka (you can skip if you prefer)
2 teaspoons red pepper flakes
5 cups of pasta (About a full box)
2 tablespoons butter
½ cup of parmesan cheese
Basil, to serve
Salt and pepper, to taste
Directions
Get a large saucepan and heat the olive oil and add the garlic and onion. Cook until soft. Add tomato paste and cook until it looks caramelized and dark in color.
Add vodka and cook until evaporated (optional). Then add in the heavy cream and red pepper flakes (add more if you want it hotter). Keep stirring until fully combined. Season with pepper and salt and then remove from heat.
In a large pot, bring water to a boil. Add your preferred pasta to the water and stir occasionally, so the pasta doesn't stick together or to the pot. Leave in for a few minutes until the pasta is soft. When it's cooked, save the pasta water and don't drain.
Add the pasta, ½ pasta water, and butter to the sauce. Stir over medium heat. Add parmesan cheese and stir. Add more salt and pepper to taste. For the finale, top with a sprinkling of parmesan cheese and basil to serve. And then you're done! Bon appétit!
A Few Notes:
If the sauce seems too thick or it doesn't look "saucy" enough, add more pasta water until you get the consistency you want.
The sauce may not look pretty at first and it may look like it doesn't want to combine, but keep generously stirring and give it time. It will reach perfection!
Leave a Comment
About the Contributor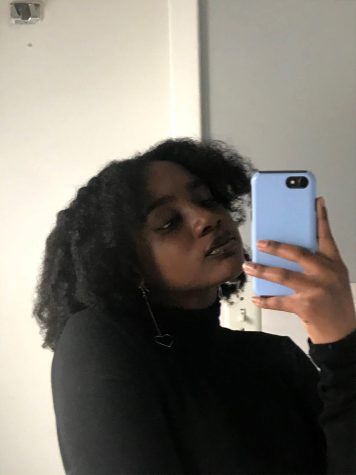 Gabryelle Chouloute, Newspaper Editor

Gabryelle Chouloute is a Haitian-American 14-year-old girl at Colonia Middle School. She usually spends her free time dancing, baking, or watching...