Everyone Should Be a Friday's Friend!
Friday's Friends is an elective class for 8th graders at Colonia Middle School.  The students enrolled in these classes work together with the self-contained special education classes.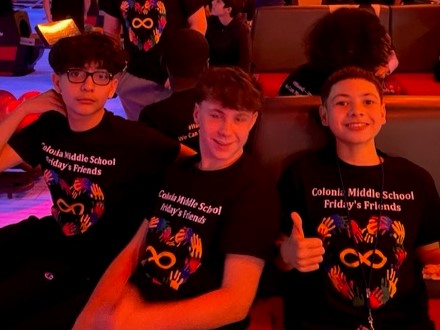 Colonia Middle School is the magnet school for middle school aged special needs students in Woodbridge Township and currently has a total of five self-contained class encompassing students with a variety of "abilities."
Friday's Friends students do not use words like "disabled" or "disabilities."  They recognize that their friends have different talents and abilities. Like all students, they understand that we all face different challenges and we all have abilities in assorted areas.
The 8th graders work with kids to help them develop social skills which gives them the ability to talk to more people and have them more involved in school activities. 
Many students have said that when they work with their friends, everything else disappears and all they focus on is being able to be good friends.
This program is only available at Colonia Middle School which makes it 10 times more interesting to our students. 
As they work together, it helps all students learn and understand each other and what they go through everyday.
Friday's Friends learn how to understand our self-contained students and about the special abilities they have. They feel that understanding is most important especially since many people do not get how they feel, especially since some of them are non-verbal. 
When we are able to learn about them it also helps them because it gives them a voice. 
"Friday's Friend was a great experience for me not only to learn more about kids with special needs, but also to help them and get to know them better." -Jaliya Rodriguez (former Friday's Friends student) 
In Friday's Friends, we do various activities including playing with robots, science experiments, playing on the playground, chalk, bubbles, and more. These activities not only teach them things about the real world but it also helps them with a variety of life skills.  They also have special events and trips throughout the year.
This Monday, Friday's Friends are holding a special "Bubble Day" event to celebrate Autism Awareness.