SUPER BOWL 57: Chiefs vs. Eagles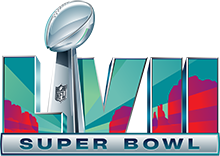 Ladies and gentlemen, the Super Bowl is set.
It is the Kansas City Chiefs vs. the Philadelphia Eagles. This year, it is going to be in Arizona on Feb 12, 2023.
Here are some things to look out for.
Storylines
Kelce Bowl
Superstar offensive lineman, Jason Kelce (Eagles), will take on his younger brother, Travis Kelce (Chiefs).
Andy Reid Revenge Game
Andy Reid was the coach of the Eagles, but he was forced to step down. He is now Kansas City's coach and has a chance to show Philly that maybe it was the wrong move to make him step down.
Who wants MVP More?
Quarterbacks Pat Mahomes and Jalen Hurts were the top two MVP candidates this year. Because this race is so tight, the winner of this game could decide it. 
MY PREDICTIONS
Quarter 1: 13-7 Chiefs
Quarter 2: 16-21 Eagles
Quarter 3: 26-35 Eagles
Quarter 4: 49-45 Chiefs
Biggest questions
Can the Chiefs survive without Tyreek Hill?
The Chiefs traded away Tyreek Hill to the Miami Dolphins for five draft picks. He was one of their best players, and he came in clutch whenever he was needed. The Chiefs have been good without him, but here is the true test in one of the biggest events in sports history.
Is Jalen Hurts really that guy?
Quarterback Jalen Hurts has had MVP numbers, and he has been amazing this year, but he wasn't as great in his first two years, enough for people to question if he should even remain the starter. He has exceeded all expectations, but is he really ready for a Super Bowl? 
Why this could end up being a top-tier Super Bowl
Super Bowl 57 can be a top-tier Super Bowl because of the matchups. The Chiefs have a top three offense in the league, and the Eagles defense is a top three unit. The Eagles offense is a top three unit, and the Chiefs defense is also a top-three unit! As I said before, Mahomes and Hurts are two top 5 quarterbacks.
This will be a great game for America to watch.