The End of the CMS Girl's Basketball Season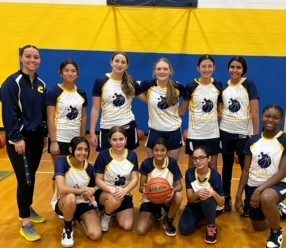 The girl's basketball team of Colonia Middle School had a disappointing loss on January 6, 2023, to Fords Middle School in the Woodbridge Township District Championship.
 The girls put up a fight in the 1st and 2nd quarters. By halftime, we were only down by 3, and the score was 19-16.
 Our players did amazing during every quarter but, especially in the 3rd quarter. They went up 12 which doesn't seem like a lot but, it was almost as much as in the first half altogether. 
Per usual, Hailey Conklin had the most points in the championship game totaling 16 points and averaging 25.4 points per game. Madelin Cominski was amazing with rebounds and Camilla Westcott was dropping three-pointers from all different parts of the court. 
Although, three of our players almost fouled out. The referees were calling unnecessary fouls on us that didn't even make sense. However, whenever the opposing team would foul CMS players, it was never called. It was an unfair game and many Fords students played dirty.
In the end, all the girls have improved so much from the beginning of the season. 
Ms. Twomey, the coach, said, "I am beyond proud of these girls and the way they performed at the championship game. They took everything we worked on throughout the season and displayed it perfectly. They fought for every possession and never gave up. They made me very proud to be their coach. It was a great season."