My AFC NFL Predictions
Winning the Super Bowl is an NFL player's dream. Here is who I think is making the playoffs for the AFC and winning the big game.
1 seed: Buffalo Bills, 12-5
Even though Josh Allen is having a rough second half of the season, I think they will turn it around. Stefon Diggs is a top-tier wide receiver and Gabriel Davis and Dawson Knox are good players. The defense on paper looks good, but haven't been executing with the off-and-on injuries of Tre'davious White. The defensive line looks good with Von Miller and Greg Rousseau. (Update: Von Miller is out for a couple weeks, but the Bills can still pull it off.)
2 seed: Kansas City Chiefs, 12-5
I have Patrick Mahomes II on my fantasy football team. I am second place in my league, but without Mahomes, I would be bottom-tier. But, a quarterback needs his weapons. This means wide-receivers, but in the Chiefs case, it is their 33 year old tight end, Travis Kelce. With Tyreek Hill leaving for Miami, Kelce was expected to step up, and he did, BIG TIME!  The defense is pretty good, with Justin Reid, Chris Jones, Derrick Nnadi, and Trent McDuffie. 
3 seed: Cincinnati Bengals, 10-7
The team that has the swag like Ohio was thought to have a "Super Bowl Slump" earlier in the season, but no! Joe Burrow (Joe Shiesty or Joe Brrrrrrrr)  is playing like last year, and they just upset the Chiefs! Even with 2021 Offensive Rookie of the Year finalist Ja'Marr Chase out due to injury, Tee Higgens and Tyler Boyd have risen up to the occasion. The defense is solid, with Sam Hubbard, Daxton Hill, Chidobe Awusie, Jesse Bates, and Trey Hendrekson. 
4 seed: Tennessee Titans, 10-7
Derreck (King) Henry is arguably the best running back in the league and they play in the AFC South division with the disappointing Colts, and bad Jaguars and Texans. This division is in the same boat as the  other south division- the NFC South with the Bucs, Saints, Falcons, and Panthers.
Ryan Tannehill is regressing, but 3rd round draft pick Malik Willis is ready. The defense is very good, with safety Kevin Byard, defensive-tackle Jeffery Simmons, linebacker Harold Landry III, and safety Amani Hooker.
5 seed: Miami Dolphins, 11-6
Tua Tagovailoa is the real deal, at least with arguably the best wide receiver duo in the National Football League with Tyreek Hill and Jalen Waddle, but tight end Mike Gesiki is regressing. The underrated defense consists of Xavien Howard, Byron Jones, Jalen Philleps, and Bradley Chubb. 
6 seed: New York Jets, 10-7
MIKE WHITE! MIKE WHITE! MIKE WHITE! As a Buffalo fan, the Jets are good this year. That really feels weird to say, because quarterback Zach Wilson got benched, but not for backup Joe Flacco, a superbowl winning quarterback, but Mike White, Joe Flacco's backup! Mike White almost beat the Bills, so there is hope for the Jets fans that have struggled for so, so, so long! It's not just Mike White, though. Garett Wilson is a top five rookie this year, Quinten Williams is enjoying a breakout season, and Ahmad (Sauce) Gardener is not only one of the most fun players to watch, but he is one of the best corners in the NFL, as a ROOKIE! 
7 seed: Los Angeles Chargers 9-8
Justin Herbert is one of the most fun players in the league. Mike Williams and Keenan Allen are both great and Austin Ekeler is on pace to break the running back reception record. JC Jackson is out for the year, but Joey Bosa, Khalil Mack, and Derwin James are top-tier defenders. I have them in the playoffs over the Baltimore Ravens because of Lamar Jackson's injuries and the offense not having many great wide receivers or running backs. 
Barely missed it
Baltimore Ravens, 8-9
New England Patriots, 8-9
Las Vegas Raiders, 8-9
WILD CARD ROUND
* TEAMS IN ITALICS ELIMINATED
Bye week: Buffalo Bills
Match 1: Chargers at Chiefs
Match 2: Jets at Bengals
Match 3: Dolphins at Titans
DIVISIONAL ROUND
Match 1: Jets at Bills
Match 2: Dolphins at Chiefs
AFC CHAMPIONSHIP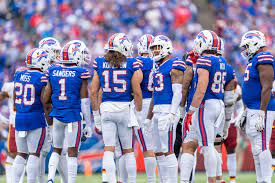 MATCH 1: Dolphins at Bills
BILLS IN THE SUPERBOWL
MY SUPER BOWL PREDICTION (Nfc team playoff bracket in a separate article)
VIKINGS VS BILLS IN PHOENIX, ARIZONA
And the winner is…………… the BILLS!