All Things Halloween!
Halloween is a holiday celebrated every year on October 31. This year Halloween was celebrated Monday, Oct 31, 2022.
HALLOWEEN ORIGIN
Halloween originated with the Festival of Samhain. On Samhain, they would wear costumes and light bonfires to scare off ghosts.
In the eighth century, Pope Gregory III made November 1 a day to honor all saints. It was called All Saints Day.
Eventually, All Saints Day incorporated a few traditions from Samhain. The evening before was called Hallows Eve, eventually Halloween.
Eventually, Halloween evolved into a day of fun things like trick-or-treating and eating treats.
HALLOWEEN FACTS
In Alabama, wearing a nun or priest costume for Halloween is illegal.
Pumpkins are fruits, not vegetables.
Originally, the movie, "Halloween" was going to be called 'Babysitter Murders'.
Finding a spider on Halloween night is considered good luck.
"Spirit Halloween" is the most popular Halloween store in the US.
Walnut Creek, California bans Halloween masks without permits.
I asked two other kids what they would be for halloween. Nora Andrews said she will be the Grinch for Halloween. Andrew McMullen said he would be a Charlie Brown ghost. 
Top 10 Halloween Costumes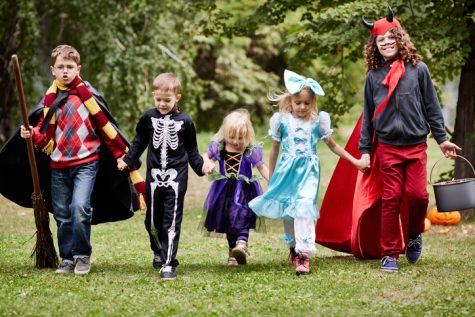 A character or creature from Stranger Things
Halloween Numbers 2022
         Costume spending: Children~$1.2B
                            Adults~$1.7B
                      Pets~0.7B
                         Total~3.6B
States with most potential trick or treaters
California (5.0 million)
Texas (4.3 million)
New york (2.3 million)
State with highest percentages of possible trick or treaters among their general populations
Utah (16.2%)
Texas (14.5%)
Alaska (14.4%)
Idaho(14.2%)
US pumpkin production top 5 states
Illinois 39.55%
Indiana 10.95%
California 9.39%
Texas 6.43%
Michigan 5.26%