What's New in Entertainment 2021: WandaVision
Warning: This article contains spoilers from previous films and the show.
On January 15, 2021, Disney released two sitcom episodes of the new WandaVision series that takes place in the Marvel Cinematic Universe. The series stars Elizabeth Olsen as Wanda Maximoff and Paul Bettany as Vision. This means that the beginning of the MCU's Phase Four has begun!
After the first week of releasing two episodes, Disney started to release one episode each week on Friday. Right off the bat you can infer the show takes place before 2000's from the black and white screen colors. Another reason why you might believe this takes place before the 2000's is because Vision is alive, or is seen alive in the show. Didn't we all watch him die in Avengers:Infinity War?
While the show continues to dig deeper into the plot, viewers might begin to realize that it's all a created reality. In teasers and trailers, it truly points toward the idea that Wanda Maximoff is using her superpowers to cope with Vision's death.
Leaving viewers with unanswered questions after each episode, this show will leave you addicted!
This would be a great show to start watching if you've already watched all your Netflix recommendations.
Leave a Comment
About the Contributor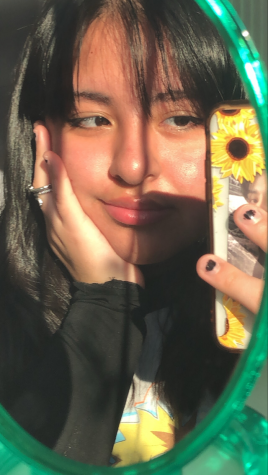 Camila Morales, Newspaper Staff
Camila Morales is an 8th grader at CMS who loves to do any kind of art. She mainly dances "hip hop", paints, draws, reads, and enjoys writing! Camila...