How are directors filming movies now?
In Australia, the entire cast and crew of a Stephen King adaptation has quarantined together. Baltasar Kormákur the Icelandic director, that's best known in the United States for "Everest" and "Contraband", turned to a color-coded armband system to his Netflix sci-fi series, "Katla" back into the production in Reykjavik after the coronavirus shut it down in mid-March.
Hollywood crawls towards some version of normalcy amid the coronavirus pandemic.
Originally slated to shoot in April, the project etched out a 19-day principal photography schedule in August. Concerns over Covid-19 hampered the shoot before a single scene was filmed. Fadida said four different actors who had previously signed on for the film. It has not been an easy process for this cast and crew.
"The first week of this shoot was very difficult for everyone, for every department. You're walking on eggshells, " Fradia Said.
"You need a baseline of anxiety to do this job well," Kelly said from distance, barreling by.
The shooting crew and various departments that gathered before filming began to run down the shots of the day. Kelly updated the team on safety conditions, the art department supervisor reminded everyone to communicate their needs, and to avoid unnecessary touching and handling of props and furniture.
Conversations about staging and performance that would usually take place in the dressing rooms or huddled next to the camera are now largely occurred over Zoom before shooting.
Leave a Comment
About the Contributor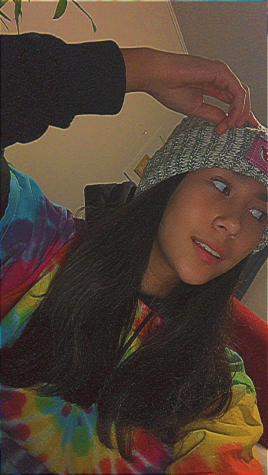 Noelle Kot, Newspaper Editor
Noelle Kot is an 8th grade student who goes to CMS and is an editor and journalist for "The Patriot Post". She is a former dancer and loves to write...