A Lot of Questions Surrounding Schools Reopening
Colonia Middle School is set to return students back into the building on Monday, October 12. There are a lot of concerns from parents about the risks of sending their child back to school.
Would you go back to school during a global pandemic? Colonia Middle School is currently putting together a plan of how to return safely. The schools plan to return students to school will go slowly, using a hybrid model that's made up of some virtual and some in person school days.
Last Wednesday, September 23, the two principals of Colonia Middle School, Mrs. Lagunovich and Mr. Taber were interviewed. They discussed the schools safety plan and what they are going to do. They made sure to point out that this may not even happen, and depending on what the future holds we may or may not go back, but as of right now the school is set to go back on the 12th.
Mrs. Lagunovich described how school was going to look when we return, and because there are no homerooms, the students would all report to the outside door closest to their block 1 class.
As for in the classroom, Mr. Taber, the vice principal of the school, announced, "We're not going to put more than 12 students in a class."
There will be no more than 12 students in one classroom, with all the desks six feet apart.
When asked about cleaning the school and how that will work, the two principals described how students will be cleaning their desks at the end of each class, to make sure it is clean for the next class. Then, the students in the class coming in will also clean the desks they are sitting at.
Students will be able to keep clean and use hand sanitizer whenever they want to.
Mrs Lagunovich states, "Hand sanitizer at every door, hand sanitizer in every classroom."
If there is a covid outbreak in the school, it will depend on if it is just one class or several classes. If it is contained to one class, just that class will have to quarantine for 14 days, and if the schools covid cases reach over 5%, the school will shut down. Students will have to get their temperatures taken before coming to school.
During the interview, Mrs. Lagunovich urged "You don't come to school if you are feeling sick."
There is a lot of uncertainty surrounding going back to school and nothing is set in stone. Colonia Middle School is working very hard to make things safe for when students return. With the help of everyone in the community, hopefully it can be a safe and fun school year for everyone.
Leave a Comment
About the Contributor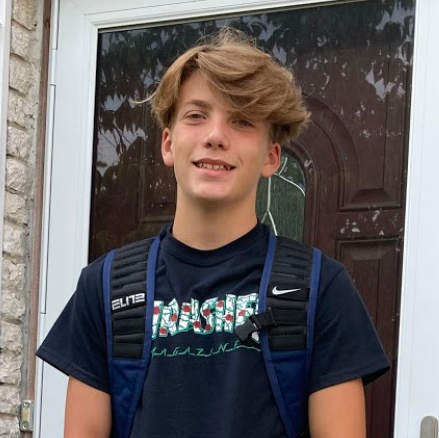 Lucas Cassino, Newspaper Editor
Lucas Cassino is a 14 year old 8th grader at Colonia Middle School.  He enjoys playing and watching sports, such as baseball, basketball and football. ...