CMS Community Service Club
The Community Service club has done plenty of service projects to help out throughout the year. Community Service club is used as a way to get hours for Honor Society while also helping out other people. There are different kinds of projects like ones that are done throughout the year and ones done in a certain amount of time.
Some of the ongoing projects community service has done throughout the year are a can tab collection for Ronald MacDonald House Charities, where the members handed in can tabs to contribute to charity. Throughout the year members drew Color-a-Smile Sheets, 6 sheets earned each member 1 hour of Service, in this project the members colored sheets for Meals on Wheels and US Troops. Community Service also helped out the Seniors in Colonia by making cards and baking goods for the seniors throughout the township. And then there are the projects finished in a certain amount of time.
Scheduled projects are the most common projects done throughout the year. They did their Have-a-Heart Food Drive which helped fill food pantries throughout the township, they collected about 2400 pounds of food and almost $800 in donations. There was also a clothing drive where 3165 pounds of clothes was collected and other items donated to local thrift shops and areas in need of clothing.
In addition, members helped clean up a local park in the Colonia Clean-Up, members helped by spreading mulch, painting, and cleaning up garbage. They helped kids in Hospitals by doing a This Day "Week" in History project and sent it to a Hospice Care Center for patients to read and enjoy. Most recently, they did a project called Project Linus, where they made blankets for kids with long stays in hospitals and managed to donate 36 blankets to hospitals.
Community Service has managed to do a lot this year to not only help kids earn hours for Honor Society but also help out in the Community, they are currently working on Letters for Elders and Travel Book, which is being created for the same Hospice Care Center we sent This Day "Week" in History to.
Leave a Comment
About the Contributor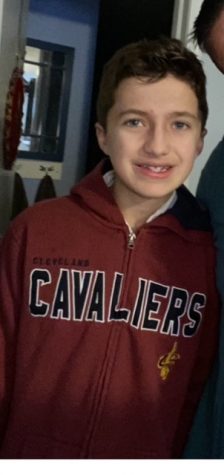 Dylan Miller, Newspaper Staff
Dylan Miller is a student at Colonial Middle School and member of the school newspaper club. He enjoys talking and playing sports like basketball, baseball...