12-15 Year-Olds Now Eligible for Vaccinations
Throughout the global pandemic, scientists around the world were researching and developing vaccines to help bring COVID-19 to an end. By the end of December 2020, the first vaccines were being administered, initially to healthcare workers and the elderly. As more vaccines have been produced and become available, more segments of the population are now eligible to receive it. Most recently, the FDA approved use of the Pfizer-BioNTech vaccine for children ages 12 to 15.
Now for the stats:
There are approximately 17 million 12-to-15-year-olds in the United States, making up about 5.3% of the population. Now that there is a vaccine for this age group, about 85% of the US population are eligible for the COVID-19 vaccine.
Pfizer held their clinical trial on 2,260 12-to-15-year-olds and they monitored the participants. One fascinating observation was that after getting the second dose, 12-to-15-year-olds had higher levels of antibodies than 16-to-25-year-olds who also received the shots. This is good news, it means that teens ages 12 to 15 have a less likely chance of getting sick after receiving the second dose.
"As of tomorrow, more than 15,000 pharmacies will be ready to vaccinate this age group," President Biden said. (2021)
"As of May 11, 46% of all Americans have had at least one dose of a Covid-19 vaccine, according to CDC data," -CNN
Children under 18 account for 12% of all Coronavirus cases and 0.10% of Coronavirus deaths.
Pfizer is expecting to submit the vaccine for use for children ages 2 to 11 years in September of this year 2021 . The vaccine for children ages 6 months to 11 years is still being studied and tested.
After researching the vaccine for ages 12 to 15, I sat down to chat with a 12-year-old vaccine recipient. They have received the first dose, and are going to receive the second dose in mid-June of 2021 .
Q: "Did you have any side effects?"
A: "I've only received the first vaccine, and after I got it, I didn't feel anything immediately but a few hours later my arm started to feel very heavy."
Q: "Do you encourage others to get the vaccine? Why or why not?"
A: "I encourage people to get the vaccine to keep themselves and their loved ones safe so we can all move forward and go back to our normal lives."
Q: "What are some things you are looking forward to after you are fully vaccinated?"
A: "I look forward to seeing family, going on trips again, and going out for dinner after I'm fully vaccinated."
Over the last year and a half, the world's version of "normal" has become drastically different. With the broader use and distribution of the vaccine, we are taking one step forward and getting closer to normalcy.
Leave a Comment
About the Contributor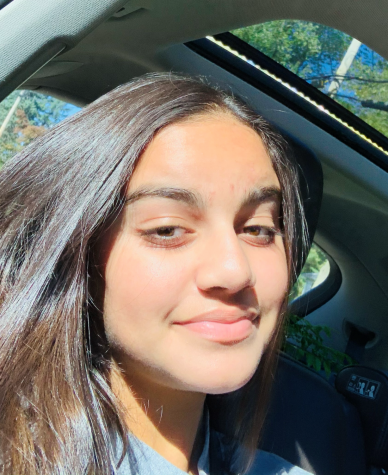 Kena Patel, Newspaper Editor
Kena Patel is an 8th grader at CMS. She is easy-going, adventurous, and caring. Kena loves dogs, singing, traveling, and watching movies. She also loves...